Useful Information on Shimbhala Herbal Extracts and Its Ingredients
About Shimbhala Herbal Extracts
Shimbhala Herbal Extracts is a synergistic formulation of food substances for the prevention and management of coronary artery disease (CAD). Shimbhala Herbal Extracts are made of herbs such as ginger, garlic and lemon with apple cider vinegar and honey. More specifically it pertains to a formulation made by blending the pure liquid extracts of common edible substances in a specific manner, such that the active ingredients are present in a synergistic and therapeutically effective combination. The formulation is remarkably effective in the prevention and management of CHD.
Shimbhala Herbal Extracts are safe to use with no known side effects.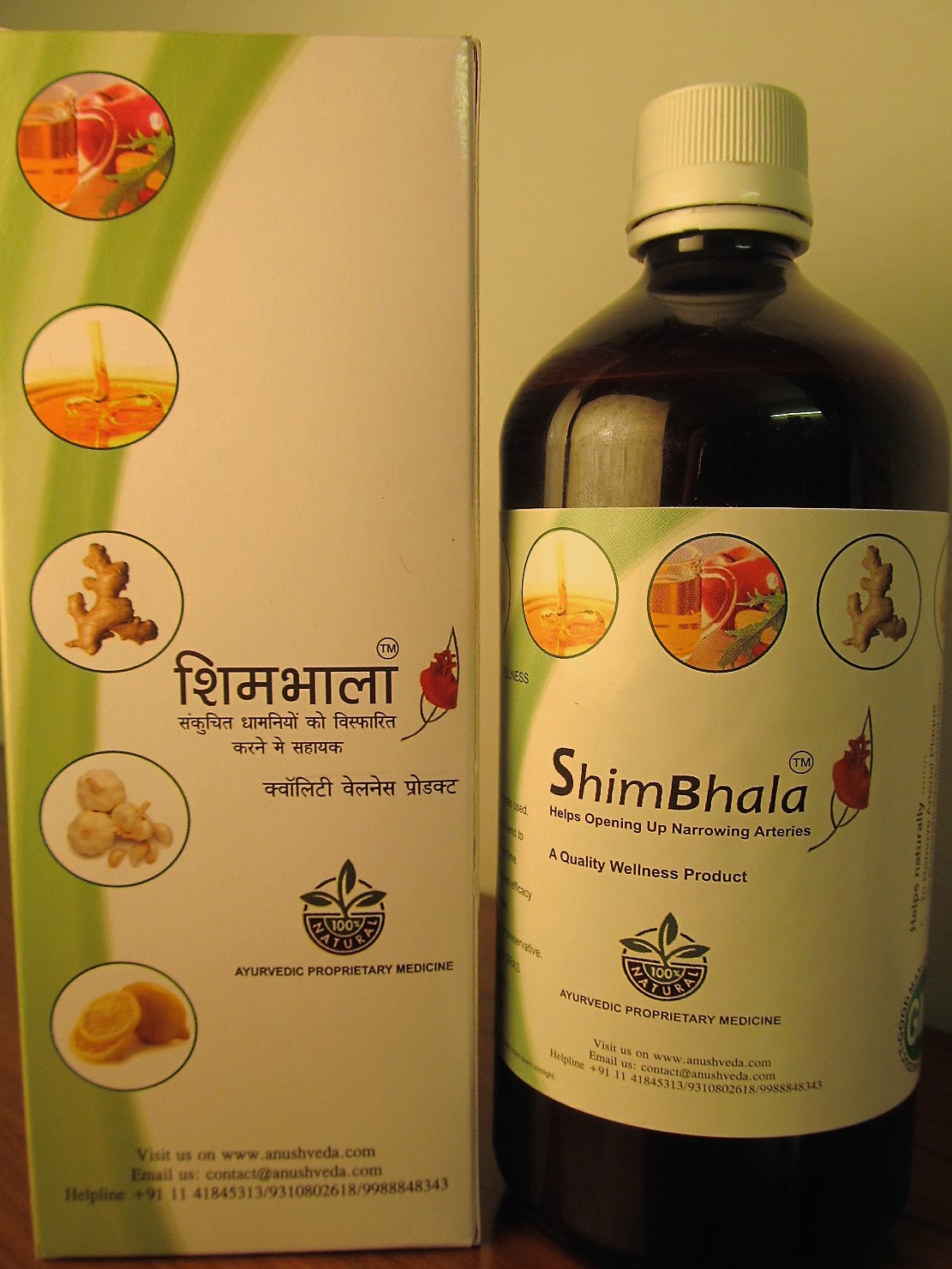 Qty: 500ml; MRP: INR 760; COD Charges: INR 40 Extra
About Coronary Heart Disease-(CAD)
Shimbhala Herbal Extracts have been found to be beneficial in Coronary heart disease (CHD), also known as coronary artery disease (CAD) which is a narrowing of the blood vessels (coronary arteries) that supply oxygen and blood to the heart. Coronary heart disease is generally caused by atherosclerosis – when plaque accumulates on the artery walls, causing them to narrow, resulting in less blood flow to the heart.
Plaque is the hard substance that forms and grows inside arteries, causing blood vessels to become clogged and hardened.
Arterial plaque formation often leads to heart attacks and strokes by slowly cutting off the blood supply to vital organs. Blood clots formed by "sticky" platelets and soft plaque that breaks free of the artery walls can block blood flow and cause death.
Arteriosclerosis is a disease that involves plaque buildup in the arteries and is also commonly called "hardening of the arteries." Plaque is formed by fat, cholesterol, calcium and other substances in the blood. Sometimes a clot may form which can obstruct the flow of blood to heart muscle. Coronary heart disease commonly causes angina pectoris (chest pain), shortness of breath, heart attack (myocardial infarction) and other symptoms. The coronary arteries are called so because they encircle the heart like a crown. The Latin word corona means "crown".
.
A myocardial Infarction (heart attack) caused due to coronary blockages leads to permanent or irreversible damage to heart muscle or tissue, thereby decreasing it's efficiency and in fatal cases leading to failure. Very little is known about the mechanism of this dangerous phenomenon.In this regard, 'natural plant extracts' and 'dietary supplements' offer a very safe and promising alternative to surgical treatments and long term medicine interventions. In this context, the present formulation is a powerful tool for the treatment of CHD.
Impact of CHD in USA and in India
According to the National Institutes of Health (NIH), USA, coronary heart disease is the leading cause of death for males and females in the USA. 17.6 million Americans were thought to have had the condition in 2006. It caused the death of over 425,000 people in the USA in 2006. According to the National Health Service (NHS), UK, coronary heart disease causes the death of 1 in every 4 men and 1 in every 6 women in the United Kingdom – it is the UK's biggest killer.
As per a study by the WHO (2002), 10-12% of the Indian population has cardiovascular disease. It is estimated that India bears 60% of the world's coronary heart disease burden. The rate of heart attack in South Asians in the US is double than that of the American average. There are more individuals with cardio-vascular disease in India and China than all the economically developed nations of the world combined. Reasons for the high incidence remain unknown.
Perhaps, individuals in low and middle income countries have more exposure to cardio-vascular disease risk factors and have less access to preventive methods as compared to high income populations. Preventive measures to detect risk factors and provide early interventions that in turn prevent morbidity and mortality related to cardio-vascular disease are scarce in economically disadvantaged regions. In general people in economically poorer nations such as India die younger from cardio-vascular disease. More men are affected than women.
Use of Shimbhala Herbal Extracts
Works as an adjuvant to coronary artery disease and helps prevent blockages.

Useful in removal of artery blockage.

Helps reduce cholesterol levels and management of healthy lipid profile.

Useful in treatment of high blood pressure.

Due to the anti-oxidant property of all the extracts in Shimbhala, it is known to improves overall body health and physical tolerance. Mostly all users report feeling more energetic.

Useful for patients of rheumatoid arthiritis .

Helps normalize fatty liver condition.

Improves overall body immunity.

Shimbhala is useful in weight reduction in long term therapy.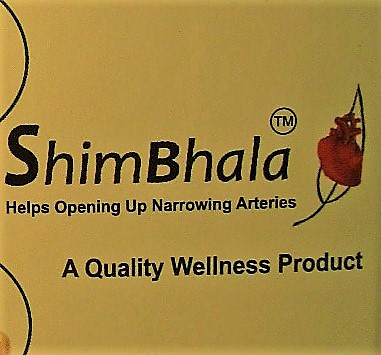 Dosage of Shimbhala Herbal Extracts
15 ml twice daily before meals preferably on an empty stomach for artery blockages, high cholesterol , high blood pressure, arthiritis or any other inflammatory disease.

15 ml once daily before breakfast on an empty stomach as a maintainance dose
Shimbhala herbal extracts are are known to be useful in all the above mentioned conditions , efficacy of which is dose dependent.
Shimbhala Herbal Extracts
Main Ingredients
(Click Image To See More Content)
ShimBhala
Manufactured in India by:
Sidhayu Ayurvedic Research Foundation Pvt. Ltd. A group company of

404, C. H. Street, Mumbai-400 002. At: Bamhan, Gopalganj, Dist-Seoni (M.P.)